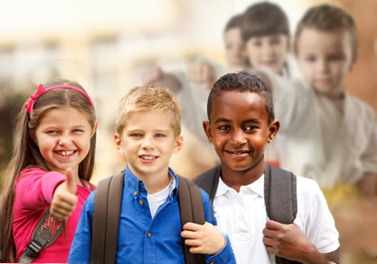 Kim Brothers Kickin Kids After School Program
Kim Brothers Kickin' Kids After School Program is more than Martial Arts. If you are you looking for a way to keep your kids active, enriched and occupied once school lets out, Kim Brothers Kickin' Kids After School Program is for you!
When you enroll your child in Kickin' Kids, we offer a safe, supervised and professionally run environment, quality care and academic support. What's more, we'll teach your child the martial arts and help develop their physical strength and character. Studies have shown that martial arts lessons can help children improve their self confidence and develop the leadership skills they need to succeed in life. Most of all, they will gain the self-esteem that is proven to result from martial arts training. If your like most parents, you are probably on a budget. Kickin' Kids gives you and your child two activities for the price of one… convenient after school care and exciting martial arts lessons.
After school transportation is provided, we pick up our students from school, making this the most convenient and best after school martial arts program in town!
---
SIGN UP YOUR CHILD TODAY!